Relocating your business can be stressful and moving all your office equipment and furniture can be overwhelming. But the junk hauling doesn't have to be.
Yet, smaller businesses still opt to do the moving themselves and, while this is certainly a reasonable option, it can be an overwhelming project. When it comes to massive numbers of boxes or the larger furniture and office equipment, a plan is needed.
When It's Time to Move On
There are many reasons for relocating your business.
Maybe the current lease is expiring and the new rent is too much. Or perhaps you find a much better location elsewhere. And, hopefully, you've outgrown your current facility and need a much bigger space for your company.
According to Urbanbound.com,
"One of the most common reasons why businesses relocate is to lower their operation costs... Quality of life factors include lower cost of living, better education systems, the cultural environment, entertainment options, crime rates, healthcare services and the state of the surrounding area."
Regardless of the reason, however, packing and moving everything can be an overwhelming and challenging project both for business owners and for their staff. Which is why prior planning and advance preparation can greatly help with and ease the move.
Americans move a lot.
And this involves far more than businesses relocating. Families and individuals seem to always be on the move.
The U.S. Census Bureau estimates that almost 40 million Americans relocate each year. And the U.S. Postal Service processes close to 38 million change-of-address forms annually. And that's just the numbers of private individuals relocating. There are no official records of business moves.
What we do know is that thousands of businesses move each year.
And we also know that, whatever the reason for the move, business relocation is a major task that should be approached with advanced planning and a strategy.
Planning Your Business Relocation - A Quick Guide
Your move will be unique and unlike that of other businesses simply in terms of specific details and needs.
For example, manufacturers may have to move stocks of inventory, production equipment, machinery, and raw materials. An independently-owned bookstore, not so much. And your moving needs will differ, as well, if your business is an insurance firm.
Your business move is unique, too, when you factor in the size of your staff, the number of computer workstations, and the amount of office furniture, appliances, and office equipment. All of these will be specific to your moving plan and having one is absolutely essential to ensure as smooth a move as possible.
And this is true whether you're doing the packing and moving yourselves, or hiring a moving firm to do it for you.
However, every business shares some common needs when it comes to moving and relocating. To help you create your moving plan, we've created a suggested checklist for that purpose: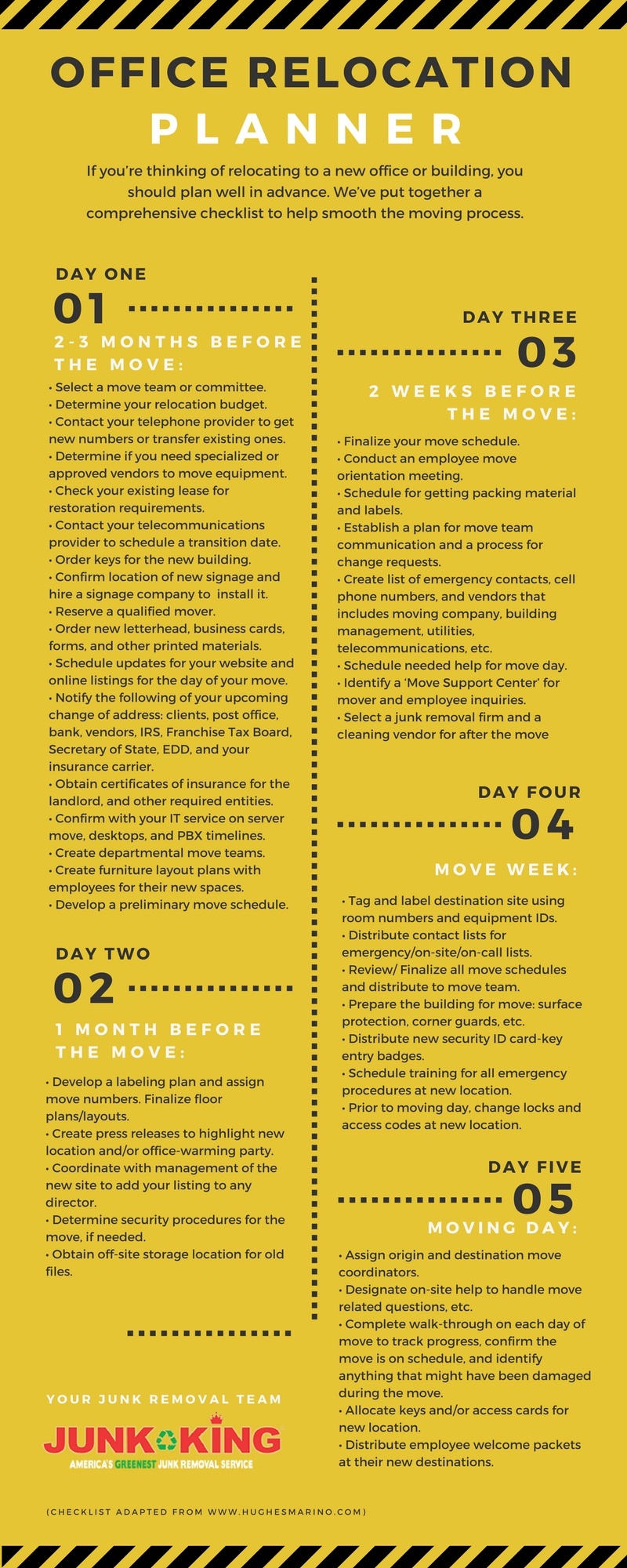 There's More To Moving Your Business Than Boxes
In our digital, online world it is critical to ensure that all your vital online business and contact information is updated and correct.
After informing all your vendors and key clients of your relocation plans, be sure to change your NAP (Name, Address, Phone) information on your Google My Business page. You can also use Google Map Maker to directly edit Google's maps. Once your edit is approved, the new information will show up on all subsequent Google map searches.
But simply updating your Google listing isn't enough.
Your business information likely appears in several directories and other places. These can include sites like Yelp!, Yellow Pages, City Search, Local.com, etc.
One source recommends checking sites such as Infogroup, Localeze and Acxiom to check for out-of-date information as well as creating accounts on all major search engines to update your old listings.
Your Professional Junk Hauling Partners
One of the necessary burdens that come with a major business move is the junk hauling.
Your businesses will have likely accumulated a large amount of old equipment, broken furniture, and junk over the years. Getting rid of it all efficiently and properly isn't something you or your staff needs to worry about in the midst of a major relocation.
Outsourcing the junk removal part of your office moving project this work is the smart approach and can actually be far more cost-effective.
But you need to determine which firm is the right one for the job. Although you can certainly find plenty of guys with trucks who might do it for you, that alternative may end up costing you more than you hoped to save.
This is why Junk King really is the firm of choice.
Junk King provides an efficient, safe and eco-friendly junk removal service so you don't need to worry about the pick up or disposal of the debris after your move is complete. One of the best things about hiring Junk King is that we recycle a much of the material we pick-up. This is proof of our commitment to being an eco-friendly removal service.
Whether you need our services several times during the move, or just once after it is complete, our hauling professionals will ensure that the debris is out of your way so that you can get on with your work.
Our team specializes in commercial junk removal. We can be at your facility in mere minutes, so call us today! Our crew is fully insured and well-trained, so you can trust them to get rid of your unwanted items in a professional and courteous fashion.
If you have questions about what we do or what we believe, click the button below, or give us a call at 1-888-888-JUNK (5865).