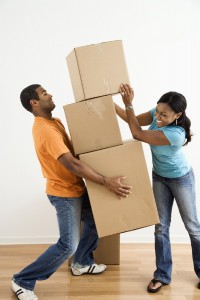 Preparing and selling a foreclosed home frequently requires a lot of work — changing the locks, making repairs, and getting the home ready for a new resident. Not to mention a foreclosure cleanout.
Foreclosed Homes Require Foreclosure Cleanouts
Contracting with Junk King to get rid of all the junk and debris left behind helps you to get the property faster into a selling condition and contribute to a greener environment as we sort each and every job for metal, e-waste, paper, household goods, textiles, furniture and appliances, in our recycling warehouses.
Real estate junk removal services give you a head start on turning foreclosures into clean and beautiful new listings. We do the heavy lifting for individuals, real estate agents and banks.
Due to the lingering stagnancy in the national housing market, there are still a record number of REO properties and foreclosures. Many of these properties are currently in various stages of preparation for eventual sale.
Unfortunately, many of these homes are not left in the best condition by the previous occupants and need a lot of work before they are ready to market. As a result, there is a growing need for a foreclosure cleanout in these properties.
Why Realtors Need Foreclosure Cleanout Services
Historically, it has been demonstrated that former mortgagees have no incentive to have a foreclosed residential property left in salable condition when they leave the home. In fact, most foreclosures are often found with trash and property that the previous homeowners failed to remove.
Foreclosed homes need a lot of preparation before they are ready for an open house. Many Realtors and banks with a large inventory of properties find themselves with a need to hire a foreclosure clean out service. Typically, this includes hauling away old furniture, appliances, unwanted items and other debris that was left behind.
Because of the complex and time-sensitive nature of REO, short sale and foreclosure transactions, banks often need cleaners on short notice and the clean out work needs to be completed with a strict turn-around time-frame. Oftentimes, foreclosed properties require a lot of work before they are in selling condition.
Getting the Work Done With a Professional Foreclosure Cleanout Service
Because many foreclosed home are usually sold in an "as-is" state, this means the foreclosing institution doesn't make any major repairs. But a smart Realtor knows that it is still a necessary task to clean out the property prior to staging it for an open house and subsequent sale. And because of the nature of the work involved, really smart Realtors know that it is strategic and cost-effective to outsource the work to a professional foreclosure service like Junk King.
A professional firm will offer a number of services to protect and preserve your collateral throughout the period of the foreclosure process and up to the sale of property. They understand the needs of Realtors and real estate professionals and are knowledgeable of investor/insurer guidelines in order to ensure that all work is completed in accordance with the applicable specifications.
Choosing the Right Company for Reliable Foreclosure Cleanout Work
Once you decide to outsource the trash removal part of your real estate deal, you need to determine which firm is the right one for the job. And while you can certainly find plenty of guys with trucks willing to do the job, choosing that alternative may end up costing you more than you hoped to save. This is why Junk King really is the firm of choice.
Junk King is the leading business to business junk removal service in North America and our real estate junk removal services take care of this cleanout process for you. It's one big task off your to-do list and it's a big step toward getting your property ready to sell or rent.
Speed, Reliability and Quality Service
We understand that as a real estate professional you need your homes to be pristine and you want to be able to list them as quickly as you can. We also understand that you appreciate hassle-free services and really can't afford to have problems with a property. And your clients have enough to deal with when selling a home, so having the chore of junk removal handled by someone else is a huge bonus.
Junk King offers fast and friendly junk hauling with an emphasis on eco-friendly practices. We recycle or donate 60% or more of the junk we collect — including renovation debris, furniture and appliances, and even clothing and personal items. Real estate ventures can proudly call Junk King their green partner for real estate junk removal.
We are insured and offer post-escrow payment. Junk King handles junk removal services for real estate professionals across the U.S. and we are the highest rated service brand in the nation. You can depend on Junk King for speed, reliability and for the peace of mind that comes with getting your property ready fast.
Our team specializes in large waste removal and trash hauling. We can be on location in mere minutes, so call us today! Our crew is fully insured and well-trained, so you can trust them to get rid of your unwanted items in a professional and courteous fashion.
One of the best things about hiring Junk King is that we recycle a much of the material we pick-up. This is proof of our commitment to being an eco-friendly removal service. If you have questions about what we do or what we believe, give us a call at (707) 744-4254.