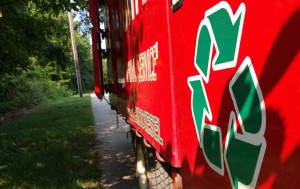 When most people picture construction sites they don't usually think of construction waste disposal and they certainly don't think of trash removal companies. But a reputable and professional firm that specializes in removing and hauling away construction debris can be a huge benefit to a construction project.
Why Use Trash Removal Companies for Construction Waste
Construction waste disposal is a major job for almost every construction project. From the relatively simple residential remodel to the multi-million dollar project, every job produces a variety of waste, debris, and plain trash! For a number of reasons this accumulation of waste must be handled efficiently and cost-effectively.
While it's not the case with every construction project, there are also legal and safety considerations with debris and waste collection and removal. Some of the materials used, or discarded during demolition, are considered hazardous materials by the state of California. Too much accumulated debris on a job site is not only unsightly, but potentially dangerous and represents a safety hazard.
Construction waste disposal doesn't have to be a DIY project
For many contractors and even sub-contractors, the work of cleaning, removing and hauling off the debris collected on a job site is not high on their priority list. Not that they underestimate the importance and necessity of the task, but it doesn't represent "productive" labor on their part or for their crew. In other words, time and money spent disposing of construction waste doesn't generate revenue for them.
In addition, it is sometimes difficult and dangerous work. Hauling broken slabs of concrete, for example, or materials with fiberglass or lead-based paints, all present a potential issues for those cleaning it up and those tasked with properly disposing of it. Then there is the cost involved with various fees and the fuel, wear and tear, and mileage with their own trucks.
Outsourcing construction waste a trash removal company makes sense
Like many other decisions a contractor must make, there are a couple of options with trash removal. On one hand, a common option is to simply hire the job out to some local guy with a truck and hope it gets done right and doesn't take too long. Although this might seem to be a viable option, the truth is you have a higher risk of running into additional problems using a "guy with a truck".
It may appear to be cheaper than hiring a licensed and professional firm, but in reality, the risks outweigh the benefits. If something bad happens, that guy in a pickup truck could end up costing you a great deal more in the end in terms of both time and money. There are real issues of safety, potential for damage or theft, and other legal risks. In other words, the seemingly lower cost could end up costing you far more than you anticipated.
Hiring a Professional
The best option of all is to outsource your construction waste disposal to reputable trash removal companies such as Junk King. By hiring a professional you can rest assured that construction waste will be handled safely, quickly and properly.
Junk King provides an efficient, safe and eco-friendly construction waste disposal service so you don't need to worry about the pick up or disposal of the debris after your project is complete. Whether you need our services several times during a construction project or just once after it is complete, our hauling professionals will ensure that the construction debris is out of your way so that you can get on with the job.
Our team specializes in construction waste removal. We can be at your facility in mere minutes, so call us today! Our crew is fully insured and well-trained, so you can trust them to get rid of your unwanted items in a professional and courteous fashion.
One of the best things about hiring Junk King is that we recycle a much of the material we pick-up. This is proof of our commitment to being an eco-friendly removal service. If you have questions about what we do or what we believe, give us a call at (707) 744-4254.