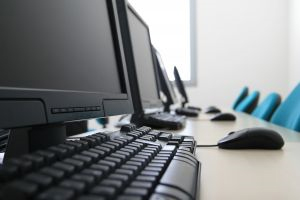 Spring is a great time for cleaning and sprucing up not only your home, but your office or place of business. Oftentimes this means you will be doing a great deal of trash hauling to get rid of old or broken down office furniture, file cabinets and even electronics and computer equipment. In addition, if you maintain your own landscaping this can involve organic waste and debris.
Trash Hauling Can Be a Burden
As a business owner, or manager in a business, you have far more important things to concern yourself with than trash hauling. "Yes," you might say, "but it's just one time a year." Perhaps, but have considered the potential downside of having to haul your own company's waste and trash? Here's just a few:
The additional time involved on the part of your employees or yourself

Possible injuries or strained muscles and backs

The added cost of having to rent a truck, or borrow one for the job

Figuring out the logistics of what can be disposed of and what must be recycled

Learning the proper methods and locations for disposal
Getting Professional Help Can Be a Boost for Your Cleaning Project
Yes, you can certainly "do it yourself." And you can hire a local guy with a truck. Or you could choose the professional route and hire a specialty trash hauling firm. With a professional team on your side the job will be done quickly, efficiently, and completely. You won't have to concern yourself with municipal dumping fees, possible fines, or waiting in line at the landfill.
Recycling and repurposing of appropriate items will be taken care of for you, so you can have the satisfaction of being a "good corporate citizen" but without working through the logistics of where to take which items, and so forth. A competent and well-trained team, like the folks at Junk King, will ensure that every item that can and should be recycled is taken care of accordingly.
The Right Trash Hauling Team for the Job
Once you decide to outsource the trash hauling part of your big cleaning project, you need to determine which firm is the right one for the job. And while you can certainly find plenty of guys with trucks willing to do the job, choosing that alternative may end up costing you more than you hoped to save. This is why Junk King really is the firm of choice.
Junk King provides an efficient, safe and eco-friendly construction waste disposal service so you don't need to worry about the pick up or disposal of the debris after your project is complete. Whether you need our services several times during a construction project or just once after it is complete, our hauling professionals will ensure that the construction debris is out of your way so that you can get on with the job.
Our team specializes in construction trash removal. We can be at your facility in mere minutes, so call us today! Our crew is fully insured and well-trained, so you can trust them to get rid of your unwanted items in a professional and courteous fashion. One of the best things about hiring Junk King is that we recycle a much of the material we pick-up. This is proof of our commitment to being an eco-friendly removal service. If you have questions about what we do or what we believe, give us a call at (707) 744-4254.