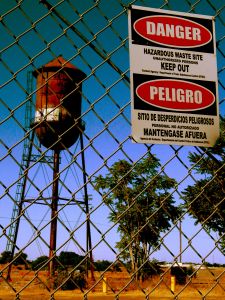 As labels go, "hazardous waste" is pretty scary. That's not something you want to stumble across as you're hiking through the woods.
You certainly don't want hazardous waste anywhere near the restaurants where you'll be dining out. If you're kids go to a playground, then it should be free of hazardous waste, right? Truth be told, there isn't a lot you can do once you step out into the world with regard to avoiding hazardous waste. You have to trust that the powers that be are on top of things and they're not letting those kinds of materials slip into our environment. That is a pretty tall order when you consider that there are over 400 million tons of hazardous waste created around the world every year. Perhaps the solution is to stay barricaded in your home? Not so fast. The average home can have upwards of 100 pounds of household hazardous waste stored in garages, tool sheds, basements and under sinks. Maybe it is time for a home hazardous waste cleanup.

The Hazardous Definition
Not sure if you have something that is deemed "hazardous?" Consider the categories. Something is considered hazardous waste if it is the following:
• Toxic: This means it can kill you or a pet if it is swallowed or is absorbed through the skin.
• Poisonous: That would be anything that can cause long-term illness if that thing is ingested or breathed in.
• Flammable: This pertains to a material that could explode or ignite. This is not things like paper orcardboard but things like solvents.
• Corrosive: Anything that can cause permanent damage to the skin is considered corrosive.
• Irritant: This is the mildest form of hazardous waste that can cause your skin, eyes, nose, throat or lungs to become inflamed.
Clearly, you can see where a lot of materials in your home could fall into those categories. Does this mean you have to throw everything out? Not quite. First, check the labels on the items that are in continuous use like cleaning products. You want to make sure they are properly stored. For things like paint, thinner, batteries, etc. that are being kept in storage you might want to consider tossing them out.
Professional Junk Hauling Help
Can Junk King help with your hazardous waste? To a point. Junk King is happy to collect all your electronic waste. Yes, those items like old computers, monitors, copies and televisions can be deemed hazardous. That's because those components shouldn't be left to decompose in a landfill. Instead, they have to be properly dismantled and sorted for recycling. The Junk King crews are happy to insure that any e-waste you're tossing out will be dropped off at a certified facility. That holds true for the rest of your typical junk like old furniture, household goods, construction waste and yard debris.
What about the nasty stuff? Junk King can't pick up the other hazardous waste. You'll have to drop that off but the Junk King crew can probably provide the information as to where those drops offs can occur. When you get right down to it, you can count on one hand the things that Junk King can't pick up. As for all the rest of your rubbish, the only to go is the Junk King route.