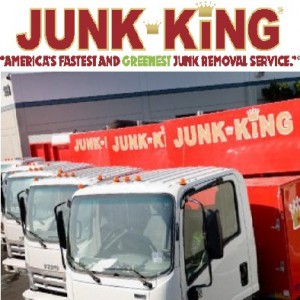 In 2005, Junk King started when two childhood friends opened a junk hauling and recycling business out of their garage. Since then the company has grown to 50+ franchises throughout the United States and Canada.
That's a pretty amazing rate of growth. So why are franchisees jumping into the junk hauling and recycling business? Well, first, I'm pretty sure potential franchise owners are doing their homework looking at the numbers the company generates. But why does Junk King generate the numbers that attract potential owners? Because customers love the service. Junk King gets the highest ratings for its service. The highest rating in the junk hauling world? Um, no. Customer satisfaction is the highest for Junk King...bar none.


After that, I wouldn't be surprised if those folks looking into Junk King franchises aren't wowed by the company's attention to detail. There business plan is comprehensive. As the company prepares for its second annual conference in the San Francisco Bay Area, more ideas and details will be passed about on how to compete in a business that generates near four billion dollars in revenues. No one goes into a new franchise blind. Before any owner opens the doors, he's received on-site training, both on the road training, and training in how to jump-start the new business. There are two revenue sources in green hauling—income from hauling and from recycling. Recycling income helps keep the price of hauling down for the customer. But Junk King gives a franchisee constant feedback, not only in how to satisfy their customers, but in how to tap new markets. Business-to-business marketing is a huge part of their business plan. Using the newest technology, the company provides constant updates, online seminars, and franchisees helping franchisees to keep up with current trends.
Junk King hauling and recycling was founded in Silicon Valley. Like most Silicon Valley companies, the byword at JK is innovation. It revolutionized junk hauling by adding recycling as the integral part of the business. A recently updated website makes online booking even easier. Junk King's extra-large trucks run on bio-diesel. So, maybe the secret to Junk King's success is innovation, or maybe customer satisfaction, or maybe it is the franchise-to-franchise exchange of ideas, or preparation, or training. Surely it is a combination of all of the above. Whatever it might be, give us a call.
1-888-888-5865 (JUNK)
www.junk-king.com/‎