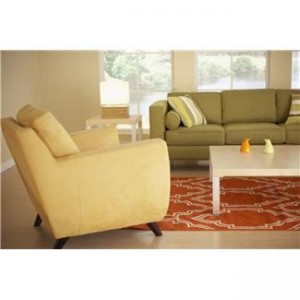 Are you planning on remodeling a living room? You may be looking to upgrade the lighting, re-plastering or sheet rocking those walls, changing floors, rugs, and changing out that tired furniture.
Junk King Hauling and Recycling is more than happy to haul away the debris from any remodeling adventure you have, it is our business after all. But do you love your matching sofa and chairs but find that old upholstery more than you can stand? Consider reupholstering that well-made old couch and chairs.
How can you tell if your couch and chairs are worth reupholstering? Check their bones first. Believe it or not, old furniture is a better candidate for reuse than newer furniture. The American Carolinas used to make much of quality furniture we purchased in the U.S. Now,a lot of furniture is made overseas and imported to the Americas. If your furniture is less than ten years old, and looking pretty shabby, it probably isn't all that well made. Good sofas and chairs are solid. They are heavy and put together using something other than staples. They don't shake or give when you sit on them or put your weight on them.
My wife had her mother's very old couch reupholstered about five years ago. It wasn't made in an antique-style, but she liked its lines and the "bones" of the piece. She also had two of her mother's old arm chairs reupholstered. In our years together, we had spent progressively more on sofas, and not one has held up as well as the reupholstered piece we have now. Reupholstering is not cheap. Done right, it costs easily as much or more cheaply-made new sofa. But it will probably last longer.
If your furniture is in pretty good shape, clean and functional, but you are simply tired of it, Junk King can pick it up and perhaps find a good home for it. We not only recycle, but we donate usable items to charities or people in need. I don't know where you live, but from calls I have received at the Junk King call center, many charities don't want to pick up larger pieces of furniture. Well, Junk King takes what you have. If the piece can be reused, we will keep it out of the landfill. If not, well, we will dispose of it properly. We love your business, but we also were founded as green, and remain the greenest junk hauler in the business.
1-888-888-5865 (JUNK)