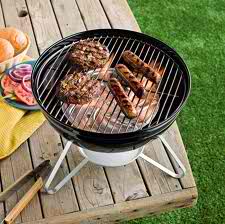 Summer grilling is a process, not an event. If you want to do it right and enjoy it throughout those hot, summer months of July and August, there are certain things you should do in May and June before summer gets here.
If you haven't done them yet, it's time to get going. For a good time this summer, you'll want to started by getting your patio or yard ready for the guests you hope will not only arrive at some point, but stay because they are comfortable and content at your home. There's more to achieving this than just serving good food.
Begin by placing yourself in the position of your prospective guests. Look around your yard and see it as if you're encountering it for the very first time. Does it look appealing to you? As someone who lives there, you may have gotten used to having clutter lying around, even ignoring certain corners of the yard, driveway, or garage, but are guests going to be able to do the same? Won't they be turned off by the mess and feel uncomfortable the moment they enter your domain? You might want to think about cleaning all that out before barbeque season begins.
Put all the clutter in one pile and call up
Junk King
to get rid it - it's as easy as that. Mow the lawn, wash the patio, and take out the trash. If your lawn or patio furniture is old and beaten up, haul that off too. New furniture is cheap and it will make your grill area look much better to your guests, not to mention offer more comfortable seating and dining spaces. People want to sit in clean chairs and eat off clean tables. The best way to ensure that happens is to buy new furniture and wash it down thoroughly after every barbeque. If it's not in a covered area, you might want to bring it in when it rains so it lasts longer and looks better when you have guests.
Is your grill a few years old? Grills have a tendency to look worse than they are after years of exposure to the elements. Like patio and deck furniture, new grills are not expensive. You can get a good gas or propane model for around $100 and it will last you many seasons. Get rid of the old grill, add it to the 'junk removal' pile and buy a new one. You don't want your guests looking at the device you're cooking on and feeling unsafe or queasy about eating the food that comes off it.
Speaking of food, what are you going to feed your guests this year? Hot dogs and hamburgers are great for the kids, but what are the adults going to eat? Plan some meals that are different, and make sure you include dishes that are healthy along with all those charred pork and beef recipes. Chicken is good, and so are vegetables and turkey burgers. Don't knock them until you try them. Mix a few of these in with your other barbeque favorites and you'll find they're more popular than you think. Be different, have fun, and enjoy your summer barbeque season.