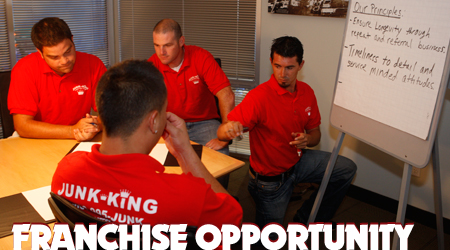 Junk King continues to expand across country with new franchises in Alameda and Contra Costa County California, Fairfax Virginia and Memphis Tennessee.All of these franchisees are excited to become a part of our Junk King round table. They are committed to providing our customers across the country with an efficient, affordable and eco-friendly junk removal service.
Junk King sets itself apart from other junk hauling companies by providing our franchisees with unparalleled support to help get their business off the ground and promote themselves during operations.
If you are an entrepreneur who is interested in starting your own Junk King franchise, we're ready to get you rolling. Give us a call at 1-800-995-5865 or visit the franchise section of our website for more information.