[This article was originally published in October 2021 and has been revised and updated.]
You had many good times together, but all good things must come to an end. And this is true for hot tubs, too. But how do you get rid of your old hot tub?
You want to get a new one to replace your once "old faithful" but hot tub removal and disposal isn't exactly in your skill set. So, what do you do?

When You Need Hot Tub Removal Services
At one time you were probably the envy of many of your neighbors. Having a hot tub was not a common thing in the neighborhood and the kids were always having their friends over.
Which meant that just about everybody knew you had one.
Or maybe it was a more of a "therapy" purchase - something to help you and your significant other relax after a hard day at work.
Whatever your reasons and whatever the scenario, the time eventually comes when that hot tub becomes an "old hot tub" that needs replacing. And even if you choose to not replace it, you'll still need to get rid of it unless you want it slowly deteriorating over the years in your backyard.
But you're not alone either.
Sales for hot tubs, spas, and related equipment seem to be on a steady uphill climb, year after year, except for an understandable dip during the COVID-19 pandemic crisis.
As Statista notes,
In 2021, the spa industry in the United States was worth an estimated 18.1 billion U.S. dollars. Previously, in 2019, the U.S. spa industry was worth more than 19 billion U.S. dollars. This dip in 2020 followed by recovery in 2021 can be attributed to the coronavirus (COVID-19) pandemic, which forced the temporary and, in some cases, permanent closure of health facilities and spas across the United States.
[Source: Statista]
Statistics compiled back in 2020 revealed that over 43 percent of Americans living in households reported owning a spa or hot tub in 2018. And, interestingly enough, the largest age bracket of these hot tub owners were the 18 to 29 year olds with the smallest ownership segment falling to the 50 to 64 year olds.
Apparently we don't enjoy hot tubbing as much as we get older?
Which may be a good things since getting rid of an old hot tub yourself is no job for anyone over 50 anyway (except maybe Dwayne Johnson who's almost there now...).
So, the question remains: What do you do?
Old Hot Tub Removal: Can You Do It Yourself?
The simple answer is, yes, you can.
Or more accurately, many people could. But it's not so much a question of "can you?" but of "should you?"
Because so many people have purchased and owned various types, styles, and sizes of hot tubs over the years, the range of hot tub removal "doability" is all over the place. Some appliances are much easier to dismantle and remove than others, while some definitely require a small team and some special tools.
Hot tubs are a bit more complex than just a plastic or fiberglass tub and some siding.
These illustrations can help you get a sense of what goes into a typical above-ground, "portable" hot tub:
The problem with disassembling and disposing of your own hot tub is that your disposal options are limited.
As an article from Family Handyman points out,
If DIY is your thing and you just need it gone, you can carve it up into small pieces and send it to the landfill through your trash bin... Acknowledging that this option represents the least environmentally friendly method of disposal, it does have benefits: It won't cost much, and you can do it on your schedule without extra help.

Keep in mind these units are built to last a lifetime, so many of the parts have value to another homeowner, a dealer or a repair company. With a little extra effort you can keep a fair amount of the workings out of the landfill, and maybe make a few bucks selling them to someone who can put them to good use.
At Junk King, we agree that reuse, repurposing, and even recycling is a far better disposal method than a landfill.
Still want to take care of your hot tub disposal yourself?
The Internet has thousands of sites and videos that show you how to do it, but the bottom line is that it's not a simple process and there's much more to removing and disposing of something as substantial as a hot tub than just breaking it down.
In addition, no only is it not a DIY project that everyone can accomplish, it also requires some additional costs that should be taken into consideration before just jumping into it.
However, at Junk King we understand the need to consider a DIY option for things like junk removal.
So, we took a deep look into what's involved in DIY hot tub removal and, with you in mind, we created this handy checklist to walk you through the major steps in for hot tub disposal, should you choose to do so: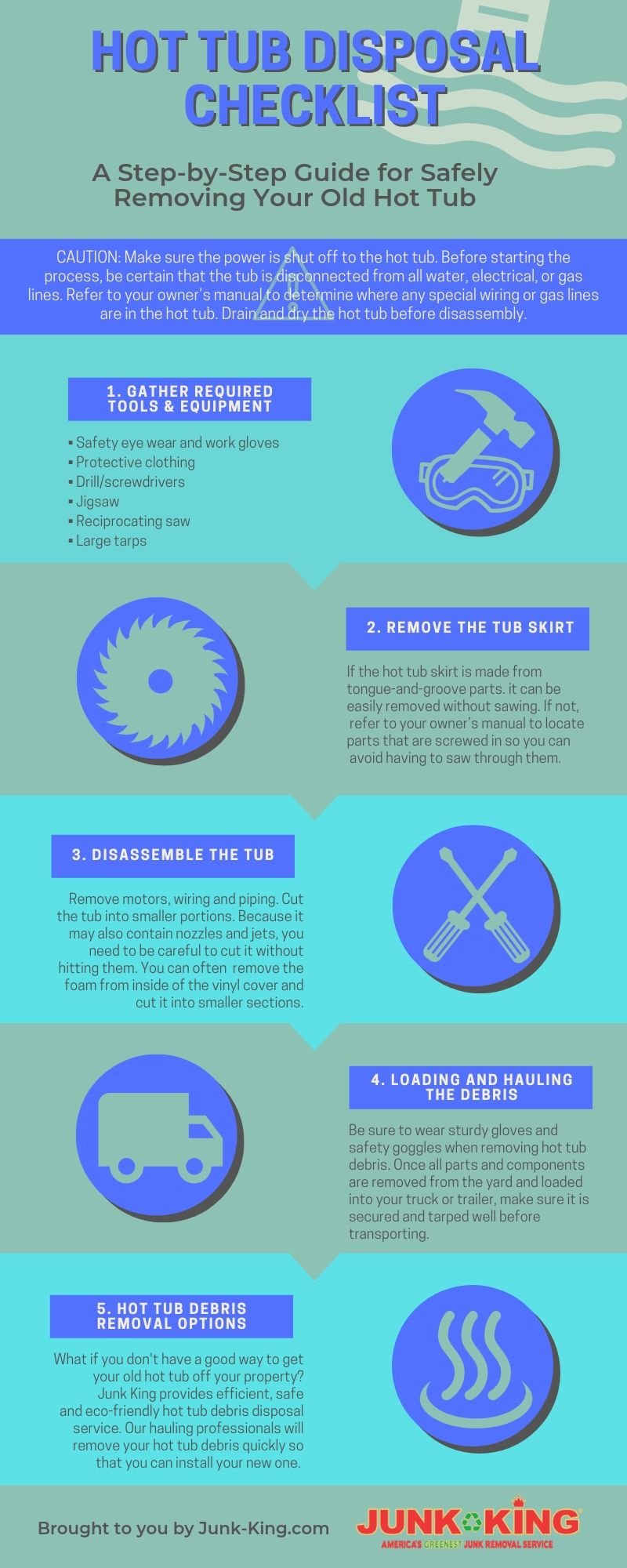 Your Other Hot Tub Removal Options
Okay, so maybe you've decided against - or never even considered - doing it all yourself.
As an ancient man in a famous movie once said, "You have chosen wisely."
The Amateur Option
One other option might be to simply have someone else you know come and do it all for you.
This could be a relative, a friend, or a co-worker - someone you know who has a truck, nice tools, and is willing to labor in your backyard and then haul out the pieces and load them.
Good luck with that!
You could, alternatively, find one of the local junk guys or used appliance shops and see if they can come and manage the job for you. It may not cost much, but you do have to be careful who you hire to come into your backyard or patio area. And there's likely no guarantees nor liability protection in those scenarios.
Sound a bit sketchy? It probably is. So, if you've made the decision to pay someone else to take care of getting rid of your old hot tub for you, you have a better option.
The Pro Option
That better option is to have a professional disposal firm like Junk King come and take care of it all for you.
Unlike what you may think, having professional, reliable, and safe hot tub removal carried out by a courteous and efficient team of junk removal experts doesn't have to be expensive.
For example, a simple removal and disposal of a six-person hot tub from some place like Reno, Nevada, for example, would cost between $388 and $418 (as of October 2022).
And other locations across the US (and Canada) may even cost you less.
The good news with this approach is the ease, convenience, and efficiency. You don't need any special tools. In fact, you need no tools at all. Nor do you need a truck, especially not a rental truck. And because we do all the heavy lifting, you run no risk of injury nor do you need to worry about possible damage to your deck or patio.
In fact, all you have to do is point - and it all gets done for you!
What this all means is that if the prospect of cutting, dismantling, and hauling out your own hot tub filled you with uncertainly and dread, fear no more!
The good news? Junk King can do it for you!
Our full-service hot tub removal and disposal option is guaranteed to be the most cost-effective and safest approach for getting rid of your old hot tub. The only "work" required of you is to make the call to your best, local, professional junk hauling firm - Junk King.
Get Professional Hot Tub Disposal with Junk King
Although you have other options, Junk King is proud to offer an efficient, safe hot tub removal service so you don't need to worry about the pick-up and disposal of your old tub. We do it all for you so that all you need do is to simply show us where the old hot tub is.
After that, our removal pros will break it down and carry all the pieces out to our large, junk removal truck.
Not only that, but we make sure that your old hot tub parts end up in the right place. That means recycling facility to ensure your old hot tub is disposed of with a green and eco-friendly process.
Our professional and insured hot tub removal team will show up on time at your home or office, and we'll call 15 to 30 minutes before we arrive on site.
Once we're there, we'll give you a free estimate based on how much room your hot tub and other junk takes up in our truck. You just point and we'll all your items into our junk removal truck - and all without any hidden fees!
So, ready to get rid of your old hot tub? It's as simple as 1, 2, 3.
Simply book online above or call us at 1.888.888.JUNK (5865). It's easy!