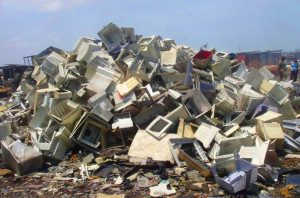 When you have a business to run, there is no good reason to do your own junk removal. Unless you actually are a junk removal company, you are not in the business of junk pick up! And having a company truck, or having an employee with a truck, is never a good enough reason either.
Junk Pick Up Does Not Need To Be Your Job
As a business owner you are expected to consider every decision that involves expenditures and spending money. You already know that hauling that unwanted junk and excess equipment or refuse from your place of business will involve some expense. However, it can often be far more cost-effective to outsource this task to a local professional firm. And depending on where you live, there may even be city or county restrictions on just what you can or cannot haul or dispose of yourself.
Five Ways Outsourcing Junk Pick Up Can Benefit You
While you may feel you are expected to haul your company's junk yourself, it's a chore you really don't want to spend the time and effort on. Outsourcing may seem like an expense with no tangible ROI. The good news is that you receive real benefits from using a professional junk removal firm for your junk pick up needs.
Here are five of them:
1. Convenience
When you stop to consider the amount of time involved in clearing out, loading, and then hauling and disposing of your junk you may be talking about number of hours, possibly days lost. The time you or your employees spend doing this kind of work is time not spent doing what you pay them for.
2. Safety and Health Benefits
Depending on the quantity and nature of your waste, the simple work of moving it can be hazardous. Cuts, abrasions and back strains are very real consequences of clearing and hauling junk. In addition, you may be working with actual hazardous materials that need to be handled properly and legally. Without proper training and proper equipment, disposing of some waste can lead to complications.
3. Real Cost Savings
When you factor in not only the time and wages spent on employees (or yourself) cleaning and hauling your junk, and the opportunity cost of other that's work not getting done, it becomes an expensive proposition. Using your own employees for junk hauling not only invites potential issues with injuries and overtime costs.
4. Assurance of Reliability and Efficiency
There is more to proper junk removal than simply throwing stuff into the back of a truck. Knowing what can be disposed of legally and where constitutes a large part of what makes a professional firm the better choice. And simply taking everything to the local landfill – assuming there is one – is not always the most cost-effective means of disposal. Recycling and re-purposing many items and materials is a responsible approach for a business to take.
5. Improved Aesthetics
A common option for far too many businesses is to simply shuffle their excess equipment, furniture and other junk from one storage space to another. Sometimes these items end up outside their place of work, creating unsightly and potentially hazardous conditions. But the prospect of having to sort, load, haul and somehow dispose of all that stuff keeps them from doing anything about it. Yet having it removed quickly and safely by a professional hauling company will instantly improve the aesthetics, safety and appearance of a business site.
Peace of Mind from a Professional Junk Pick Up Operation
Junk King provides an efficient, safe and eco-friendly business junk disposal service so you don't need to worry about the pick up or disposal of the debris after your cleaning or remodeling project is complete. Whether you need our services several times during a project, or just once after you're done, our hauling professionals will ensure that the junk and debris is out of your way so that you can get on with business.
Our team specializes in business junk removal. We can be at your facility in mere minutes, so call us today! Our crew is fully insured and well-trained, so you can trust them to get rid of your unwanted items in a professional and courteous fashion.
One of the best things about hiring Junk King is that we recycle and re-purpose much of the material we pick-up. This is proof of our commitment to being an eco-friendly removal service. If you have questions about what we do or what we believe, give us a call at (707) 744-4254.