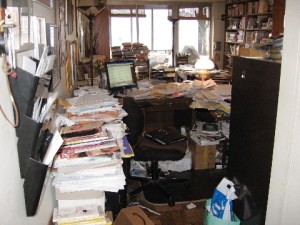 Hiring a trash removal company should be a strategic business decision, not simply a matter of finding someone in the phone book. (And does anyone use a phone book anymore?) Think about it: you are inviting strangers into your place of business and allowing them access. This requires a degree of trust and confidence that the firm you hire is professional and reputable.
What to Look for in a Trash Removal Company
Trash removal companies - those professional junk hauling firms – are not all created equal. And while it is simple enough to call the first one you know of, or the first one that comes up in a web search, it pays to be discriminating when making this kind of vendor choice. There are a number of factors to take into consideration when choosing a quality, reliable trash removal company.
They should provide accurate and free estimates
Your trash removal company should give you an upfront estimate on what a job will cost you. They should also charge you only for the amount of junk that they actually haul. Make sure there aren't any hidden fees and that you only pay for what you get.
A clean and professional image is revealing
Although image can be deceiving, it is a good indicator of the overall quality of a business, particularly with a junk disposal business. It's easy for an unlicensed contractor to buy a used pickup truck, put a sign on it, and start working. Yet, these are the type of operators that could easily damage your facility, or create a costly problem with the improper transporting or disposal of your trash. This is not the way to save money - check out a company's references and website to determine their level of professionalism.
A professional firm will have a robust recycling policy
A responsible, current and professional Junk Removal company will have a recycling policy in place. Whereas some unlicensed junk haulers may pick up your trash and dispose of it illegally, many items can and should be recycled. Make sure to ask your prospective junk removal vendor the details of their recycling policy. Environmentally responsible companies will keep the majority of your junk out of landfills.
Check out their online reviews
It's always good to check online review sites like Yelp to ascertain other customer's experiences with a particular trash removal company. Although such website can sometimes contain fake reviews and a few disgruntled customer's rants, they are still a good place to find some integral information about the company you are about to work with. Learn how to pick out the useful reviews and get an overall sense of a company's performance.
All Trash is Not Created Equal
With new laws being passed all the time governing the disposal and destruction of trash and mechanical waste, those who are able to fully comply with those laws provide a valuable service for businesses owners and the community. One of the advantages of working with a professional junk removal company that has a regular contract with recyclers, landfills, and transfer stations, is that you will pay less than working with a municipal waste management company or agency. This is because the professional firms who look to recycle typically get better rates which means savings they can pass on to you.
Another benefit to having a professional firm remove your trash is that you don't have to have unsightly junk and debris taking up space at your business for long. Typically, you can have it taken away that day or the next day, and sometimes even from inside your place of business so you don't have to put it out in your parking lot or loading dock.
Make Your Decision with a Proven Junk Hauling Performer
Ultimately, deciding which firm to use does not have to be a difficult decision. A competent and well-trained team, like the folks at Junk King, has a proven track record and a commitment to excellence Junk King will also ensure that every item that can and should be recycled is taken care of accordingly.
Junk King provides an efficient, safe and eco-friendly trash removal and disposal service so you don't need to worry about the pick up or disposal of the debris after your project is complete. Whether you need our services several times during your clean-up project or just once after it is complete, our hauling professionals will ensure that the debris is out of your way so that you can get on with your business.
Our team specializes in large trash removal. We can be at your facility in mere minutes, so call us today! Our crew is fully insured and well-trained, so you can trust them to get rid of your unwanted items in a professional and courteous fashion. One of the best things about hiring Junk King is that we recycle a much of the material we pick-up. This is proof of our commitment to being an eco-friendly removal service. If you have questions about what we do or what we believe, give us a call at (707) 744-4254.