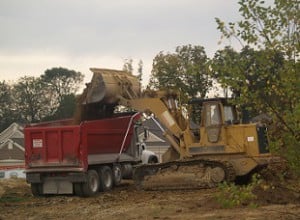 Construction trash removal is one part of a construction project that no one really wants to do. Building, renovating, remodeling - doing to the "real" work of construction - is far more preferable than cleaning up and having to make dump runs. And for the site foreman or project manager, taking people off the job to clean up and haul trash is never a good deal, either.
The Truth About Construction Trash Removal
With the rising cost of disposal and dumping fees, the increasing regulation and decreasing availability of landfill space, construction trash removal is a costly chore for most contractors. It can be put off for a while, but that can become unsafe and legitimate safety hazard. A local resident with an available truck can be hired to do the job, but that can be risky.
However, when the sheer volume and variety of debris and waste generated by construction activity is considered, the prospect of simply dumping construction trash begins to look less appealing.
How Much Construction Trash is Really Generated?
This infographic gives a breakdown of what types of construction activities produce the most trash, what the typical debris is made up of, and the actual volume of Construction & Demolition (C&D) trash nationwide by construction activity source:

While your projects may never generate substantial volumes of debris, there are still a number of good reasons to consider outsourcing the trash removal work to a professional firm. Aside from freeing up your own resources for more productive tasks, you can know that your waste and debris removal will be handled quickly, safely, and efficiently.
Why Construction Trash Removal Should be Outsourced
The ideal set up for most construction projects is to schedule a series of waste and debris clean ups and removal. And by making use of a reliable professional firm the work can be scheduled and carried out with a minimal amount of disruption to the progress of the job. In addition, outsourcing this task allows the contractor to keep his crew working on the productive aspect of the project.
Finding the Right Firm is Essential
Once you have made the decision that outsourcing a series of site clean ups is cost-effective and will increase the safety factor, you need to determine which firm is the right one for the job. And while you can certainly find plenty of guys with trucks willing to do a "cheap" job, going that route will end up being anything but cheap.
Junk King provides an efficient, safe and eco-friendly construction waste disposal service so you don't need to worry about the pick up or disposal of the debris after your project is complete. Whether you need our services several times during a construction project or just once after it is complete, our hauling professionals will ensure that the construction debris is out of your way so that you can get on with the job.
Our team specializes in construction trash removal. We can be at your facility in mere minutes, so call us today! Our crew is fully insured and well-trained, so you can trust them to get rid of your unwanted items in a professional and courteous fashion. One of the best things about hiring Junk King is that we recycle a much of the material we pick-up. This is proof of our commitment to being an eco-friendly removal service. If you have questions about what we do or what we believe, give us a call at (707) 744-4254.