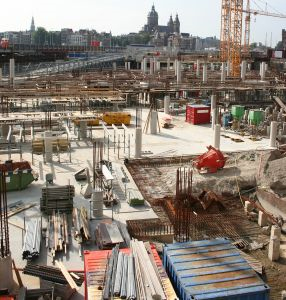 One of the more troublesome tasks for contractors is dealing with construction debris disposal. It's time consuming, takes away from production and can be costly. Not only does somebody have to be taken off the job at hand in order to clean up and haul the trash and debris, but there's the fuel costs, additional mileage on the vehicles, and disposal fees of various kinds.
How To Make Your Construction Debris Disposal Far Easier
The one inescapable fact of construction is that it not only produces buildings, but it produces debris in the process. And cleaning up construction sites is not always just a job that's get's to be put off to the end of the project. For larger projects lasting weeks or months, site clean up and debris disposal can be a regular task that has to be done every week, or even a few times a week.
One of the problems that makes the construction debris disposal an issue for contractors is a lack of planning. Because it is always something that has to be done and no one really wants to do it. So the approach is often haphazard and usually put off until it has to be taken care of.
However, by taking a few simple, proactive steps you can streamline and improve your entire construction debris disposal process:
3 Tips To Optimize Your Debris Disposal
1. Designated debris containers/bins - Too often contractors and their subs overlook the efficiency of dumpsters or bins for holding material debris and waste. In addition to the safety factor of keeping cut-offs and other debris littering a site, designated containers can allow you to separate recyclable materials from hazardous materials, and so on.
2. Weekly clean-ups with designated personnel - Creating an actual plan with a schedule as part of the construction process is an efficient approach for disposing of site debris. Having the same members of your crew tasked with regular clean up at set times helps to ensure consistent and quicker clean up, as well. The plan and schedule should include your sub-contractors at every phase of the project.
3. Hire a professional firm for hauling and disposal - One of the best ways to minimize your own costs in terms of wages, fuel, fees and time lost in production is to outsource the actual loading, hauling and disposal of your construction waste. While it might seem to be somewhat counterintuitive to pay someone else to haul your trash, you can actually be spending far less by outsourcing this work.
Finding The Right Source For Outsourcing Debris Disposal
The fact is you could easily hire a local guy with a truck for some cash and hope the job gets done. But that's the problem with that approach: you hope it gets done. And done right. And done legally. Everything can't always be hauled off to the nearest landfill. And everything doesn't need to be disposed of when so much can be recycled and re-purposed.
In addition, there is the potential issue with improperly disposed material that government agencies have determined as hazardous. Possible liablity and penalty concerns should be enough to rethink this option. But with a professional and local debris hauling firm these concerns can be eliminated.
Go Pro!
Once you have made the decision to outsource this task, you need to determine which firm is the right one for the job. And while you can certainly find plenty of guys with trucks willing to do a "cheap" job, going that route will end up being anything but cheap.
Junk King provides an efficient, safe and eco-friendly construction waste disposal service so you don't need to worry about the pick up or disposal of the debris after your project is complete. Whether you need our services several times during a construction project or just once after it is complete, our hauling professionals will ensure that the construction debris is out of your way so that you can get on with the job.
Our team specializes in construction trash removal. We can be at your facility in mere minutes, so call us today! Our crew is fully insured and well-trained, so you can trust them to get rid of your unwanted items in a professional and courteous fashion. One of the best things about hiring Junk King is that we recycle a much of the material we pick-up. This is proof of our commitment to being an eco-friendly removal service. If you have questions about what we do or what we believe, give us a call at (707) 744-4254.