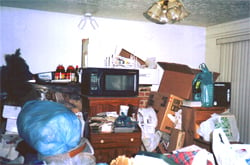 Throw it away! If you've heard that statement more than half a dozen times from loved ones and roommates, you might just be a hoarder.
Keeping those baseball cards from your childhood is a good idea – they could be worth some serious cash in a few years. Keeping your junior high school semi-formal outfit could be justified as nostalgic, but do you seriously think you'll ever wear it again? Give it to someone or throw it away. It's just more junk clogging up your closets, basement, attic, or garage. Think of what you could do with all that space if you cleared all that stuff out of there.
Hoarding is a behavior. In some cases it may even be evidence of a more serious psychological condition that prevents you from letting things go. Those are the extreme cases. If you feel you're having a nervous breakdown every time you go to throw something in the trash, see a doctor. If you're putting stuff away in the closet because you can't decide what to do with it, that's something else entirely. Stop telling yourself that it will be useful someday. It won't be. Call a junk removal company like Junk-King and have all of it hauled away. Then you can fill up all that space again if you want to.
To prevent hoarding, ask yourself each time you go to put an item in the attic or basement if there really is a need for you to keep it. If the answer is no, you have two choices – give it away or junk it. Try charity first if you can. Old clothes and toys make great gifts to churches and non-profit organizations. Getting rid of excess junk that way will help you feel better about it and will benefit someone else. As a bonus, in certain situations you can get a receipt for your gift and write it off on your taxes. That should give you some incentive to clean out your storage bins.
The second option, junk removal, requires a little more work. Any electronics need to be separated and a junk removal company that specializes in their removal needs to be called. E-waste is a serious problem that has been addressed by many cities and towns, but individuals are the ones who need to take the initiative for recycling efforts to be successful. If you've hoarded all your old televisions, stereos, computers, and game systems over the years, make sure you dispose of them properly. Even old cell phones thrown into a landfill can have severe long term consequences.
If reading this article is making you cringe and shake, you may have a hoarding problem. If you can't throw things away yourself, give someone else the responsibility for doing it. Start with one closet. Go into it and take out anything you think is still useful, then turn your back on what's left inside. Have a trusted member of the family, a roommate, or the junk removal company, clean out the rest and get rid of it. Your home will have more space that way and you'll be on your way towards curing your hoarding problem.
For the best in junk removal services, simply call Junk King at 1-888-888-JUNK or book a free on site estimate online.