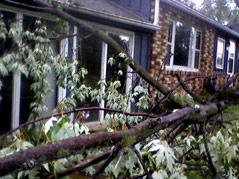 The weather this year has been brutal. It doesn't matter where in the country you live, you've been dealing with the wrath of Mother Nature since before the holiday season last year. Hurricanes, earthquakes, tornadoes, snowstorms - all have become regular visitors to the continental United States.
We even dodged a near-miss Tsunami on the West Coast and a possible nuclear fall-out in the jet stream – courtesy of fractured reactors in Japan. We weathered all of this and we're still standing. The only thing left to do is the clean-up – and maybe a little damage prevention while we're at it. This thought may have already crossed your mind.
One thing you can do to clean up after a storm has ripped through town is hire a professional junk removal service like Junk King to help you clean up the mess. Junk King's hauling teams are trained in this type of thing and know how to avoid electrical and bio-hazards, two dangerous side effects of flooding and downed power lines. Even if you think its safe, contract a professional anyway. The grief and potential expense that you save yourself will make it well worthwhile. They will also be able to point out areas where you can be safer and more organized for the next storm.
Prevention begins with asking some simple questions. Look at the damage that was done to your home and figure out how it happened. What caused the damage? Was it blowing wind, flood water, excessive heat or cold, maybe hail? If something was torn loose, is there a way to fasten it down more securely? Did blowing objects in your yard, such as chairs or old junk items, cause damage when they were subjected to inclement weather? You'll find new preventative measures you can take as you ask these questions and make a mental or written checklist of the answers.
Another tip when cleaning up after a storm is to have Junk King get rid of anything that was lying around before the storm while they're hauling away dead branches, stray shingles, and any broken lawn or garden furniture. If you live in an area with a history of high winds you probably already know this. You might even have tables and chairs anchored or chained to a solid base so they don't blow away. If you think that's extreme for the area of the country you live in, call a few folks up in Springfield, Massachusetts. New England might be known for snow, but they had a pretty powerful outbreak of tornadoes up there not too long ago.
It seems our weather is changing for the worst every year. Perhaps it's global warming causing it as some scientists suggest. Maybe it's a shift in the poles or climate zones. The reasons don't really matter to the average homeowner. Storms continue to come in and we have to be prepared for them. As you clean up after your most recent storm, take a few extra minutes and get ready for the next one. When it comes, you'll have a lot less to clean up the next time around.