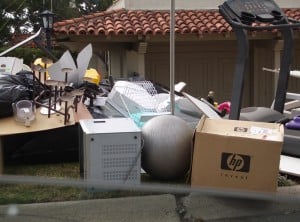 Just put it out on the curb and the trash company will take it away, right? That's what most new homeowners believe when they sign up for their first waste removal service, but then they try to get rid of that couch or big-screen TV and it stays on the curb for a few weeks.
What happened? Do the "big trash trucks" come around once a month? You're paying for service; they should take everything. Isn't that the way it works? In most cases, the answer is "no". When it comes to
large trash pick up
you will need to call in a professional removal company like Junk King. Your regular guys will not do it.
Large trash items more often than not require special disposal procedures. Your couch might go silently into a landfill or recycling center, but items like televisions, stereos, appliances, and other mechanical devices that have tubes, wires, or chemicals inside them will need to be disposed of properly. Most waste removal services, particularly those that service residential units, are not equipped to handle that type of disposal. Even if they are, there are extra fees that need to be paid, a responsibility these companies are not willing to take on unless you pay them up front.
With new laws being passed all the time governing the disposal and destruction of trash and mechanical waste, those who are able to accommodate those laws are providing a requisite service for homeowners and businesses. If you call a professional junk removal company like Junk King that has a regular contract with recyclers, landfills, and transfer stations, you will pay less than working with a waste removal company. They typically get better rates for volume, savings they can pass on to you.
Another benefit to having Junk King come over for large trash pick-ups is that you don't have to have unsightly garbage on your curbstone for long. You know that old couch is hideous. That's part of the reason you're getting rid of it. Is it really necessary to show it to your neighbors for a week before it's taken away? When you call in a service, you can have it taken away that day or the next day, sometimes from inside your house so you never have to put it on the curb. There's no reason for anyone to know that once upon a time you had really poor taste in furniture.
Anything with a tube or monitor needs to be removed individually. Your local waste removal company will not take a television. Those have to be disposed of in a safe manner where the components won't pollute the earth or air. Recycling is a good option for them, especially if they're less than twenty years old. Anything older than that may have mercury tubes in it, which are highly dangerous, poisonous, and require professional handling and disposal. Be very careful when you handle items like that and make sure you hire a pro like Junk King to get rid of them.
For the best in Large Trash Pick Up, simply call Junk King at 1-800 995 JUNK or book a free on site estimate online.