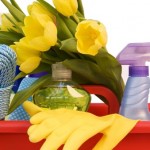 Winter is long over and you no longer have an excuse for not doing all of those odd jobs you've been procrastinating about all winter long. If you live in the Northern part of the country, you had plenty of snow to deal with, but it's been gone for a few months now.
There's a good chance that someone in your house may have already requested that you do one or more of the five tasks we have listed here, but we thought we'd mention them anyway. Spring has sprung (some time ago) and it's time to get these things done!
Eliminate Clutter: This is one of those tasks that can be compared to a New Year's resolution. How many times have you told yourself that you were going to clean out all that clutter and finally get it out of sight and mind. Somehow, this one always gets put off until later and the pile just gets larger and larger. Don't let it happen again this year. Instead of making this your last spring cleaning project, make it your first.
Wash Windows: Another candidate for the "later" list, window washing is everyone's least favorite task, but the results are always awe inspiring. Spend a day washing all the glass portals that look out from your home and you'll find that your house and the world around it are actually much brighter places than you imagined.
Clear Gutters: If you didn't do this in the fall you may have had some leakage from the roof or in the basement. If the gutters are clogged and drainage water can't get down the drain spout, it will spill over the sides of the gutter and pool at the base of your home. That ground isn't graded to drain like the area around the drain spout, so you end up with pools in the basement. Avoid that by making your gutters part of your spring cleaning efforts.
Detail the Car: Now that you've done some of the heavy duty household chores, take some time and detail the car. Inside and out, it's filthy. Winter has a way of doing some real damage to an automobile, so be nice to your ride and give it a wash and vacuuming. Maybe you'll find some change in the seats or that favorite CD you thought you lost. Small bonuses like that make auto detailing worthwhile.
Garage/Basement/Attic Yard Sale: If you're still stuck on the clutter suggestion, try thinking of it in terms of making a profit. Clean out your garage, basement, or attic and put everything on the front lawn for a yard sale. They say one man's garbage is another man's prize possession. Just because you think it's worthless doesn't mean someone else might not like it. Sell as much as you can, make a few dollars, and then call the junk removal company to get rid of the rest.
And for those bigger items around the house that you would rather someone else haul off - simply call Junk King at 1-888-888-JUNK!