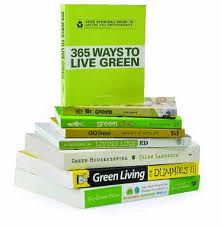 The world around us getting a fresh layer of paint - green paint that is. Everywhere you look, from TV commercials to news stories, green and eco-friendly initiatives are taking center stage.
Although companies around the world are trying to harness the 'green revolution,' this isn't a bad thing. If small and large companies make it both their civic and corporate duty to become a little bit greener, it will benefit both our environment and economy in the long run.
One problem, however, is the amount of information we're all getting bombarded with on "what's green." Is being green simply recycling your plastics on a regular basis, bringing a reusable bag to the grocery store and riding your bike every so often? Or is green a total change in your lifestyle; always thinking about your 'carbon footprint' and how much effect your actions will have on the environment around us? These questions are really up for every individual person to answer, however, we aren't alone in making our decisions.
There are some great online sources on green information: providing tips on recycling, clean energy technology, composting, and pretty much every other environmental subject you could think of. Using these up-to-date blog and news sources, we can be more informed on how to be green, and in turn make the right decisions throughout our lives. So, without further ado, here are a few great picks for green blogs and news sources:
SFGreen from SFGate.com: The San Francisco Bay Area may be considered the hub of the green revolution. Bay Area citizens and businesses not only preach an eco-friendly lifestyle, but they also back up those words with real actions and change. The Bay Area's primary news source, the San Francisco Chronicle, and it's online presence SFGate.com, reflect this commitment to the environment. SFGate.com has a specialized eco-friendly section called SFGreen, which provides current news stories on the latest and greatest green trends and research.
Waste and Recycling News: Waste and Recycling news primarily concentrates on businesses around America, and the current effect they are having on our environment. From breaking news on environmental legislation to providing bios on those companies that are making a difference, Waste and Recycling is another great source to follow.
The Daily Green: For those of us that are most concerned with our own everyday actions and how we effect the environment, the Daily Green is a fantastic blog to keep informed. With sections like 'The Greenest Celebrities' to show those stars who are really making a difference in the world, the Daily Green provides the perfect mix of entertainment and information to keep you reading on a regular basis.
Junk King's Recycling Section: You might not know it, but the Junk King blog has an entire section devoted to junk recyling and green living. The section covers a variety of topics, from how to recycle large appliances like your refrigerator to current events in the world of recycling. Stay tuned to the Junk King blog for continued coverage on our ongoing battle to preserve the environment around us.