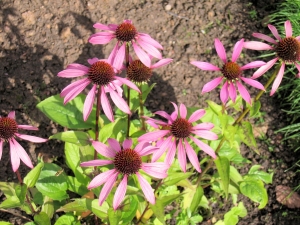 As we move closer to spring time, many people are probably considering the possibility of re-growing their garden after a long winter.
As the cold and ice begins to thaw, we stare out at the remains of our dead plants and flowers and being longing for a lush, colorful garden in our backyard again. Well, that possibility isn't too far off - although it will require a good amount of planning and preparation before the real growing begins.
If you want to get your garden in gear for planting then your first call should be to a yard waste removal company. Growing a garden is like painting a portrait: you need a clean canvas to start on. For a backyard garden this can mean digging up old scrub bushes, uprooting dead trees or turning over sod. Any one of those projects is going to create a fresh mound of yard waste. That's not something you want to toss in the back of the family SUV and haul away. Would you even know where to haul dirt to? An experienced yard waste removal company knows where to haul your yard junk. They have no problem getting their trucks dirty and their hard working crews will do all the heavy lifting and loading.
If you live in a warmer climate, you might already have a flourishing little garden to call your own. That doesn't mean there isn't room for improvement. One successful tomato patch could inspire you to put in a couple of rows of peppers or lettuce. It might even be time to plant an apple tree. Naturally, you'll need to make room for those plants. If your garden is just the way you want it, perhaps you've been thinking about adding a deck or new patio. Here's another perfect opportunity to bring in a yard waste removal crew. Not only can they take away dirt and shrubs, but they'll also be able to haul off chunks of concrete or planks of rotted wood. Once again, you'll have a clean canvas upon which to create your ideal living space.
Keep in mind that having the number of a yard waste removal company is also good for the next wave of storms. You know they're coming sooner or later and they might end up dumping some unwanted items in your backyard. Instead of hassling with that refuse, the yard waste removal crew can handle the job.
For the best in yard waste removal around the country, Junk King is on standby to help you finally get that garden up and running. Simply call 1-888-888-JUNK or a book a free on site estimate online and you'll finally have that clean canvas for gardening.