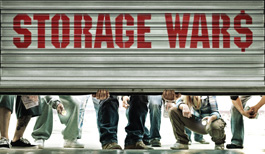 A new show called 'Storage Wars' recently premiered on A&E that features a group of men who bid for old storage lockers that have been abandoned in hopes of finding hidden treasures.
Typically, a storage locker is 'abandoned' when the renter forgoes paying rent for more than 3 months, in which case the company calls in the 'Auction Hunters' (which is actually another similar-themed show on Spike TV).
The premise of the show: individuals need to bid on the goods within the locker prior to stepping into it. Some end up finding nothing but old rusty auto parts and ripped up carpets. Others find incredible antiques that sell for thousands of dollars. They make a gamble with the junk and see if it pays off.
The truth is, most storage lockers contain mostly useless junk. People often utilize lockers when their homes and apartments become too cluttered with old furniture and equipment. They often feel bad about completely getting rid of the junk so they pay rent in a storage locker to hold onto it. In the end, they realize the items in the storage locker are useless and the rent goes unpaid.
Outside of reality TV world, the first mistake here is renting the storage locker. Most items that people move from their homes into a locker are useless anyways and should simply be tossed right off the bat. The money spent on a locker could be utilized to furnish a new living room or office space that came out of all that cleared space.
Although many of us think that the old junk in our homes could be put up on 'Antiques Roadshow' down the line to pay for our retirements, its more likely to hang around your house until you actually retire. This junk is a drag: it takes up space, creates dust, and could contain dangerous or have hazardous materials if it is part of an older generation of furniture or equipment.
For the best in junk removal - whether it be in an old storage container or within your home - give Junk King a call at 1-888-888-JUNK. Junk King provides affordable, efficient, and eco-friendly junk hauling services so that you can get on with your life, junk-free.