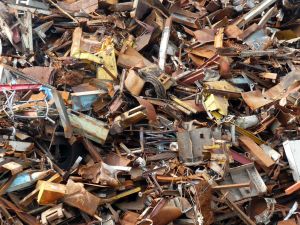 If you're like most Americans, you have a tendency towards accumulating things. Some of those things get used on a daily basis and others get tucked out of sight.
We fill up boxes and pack closets. We bag up clothes and stack up mattresses. We load file cabinets and jam attics. We think that one day, that old crate of cables and heap of used lumber will come in handy. Face it, we're a culture that loves to own stuff but has trouble parting with items that no longer serve a function. From aging electronics to creaky furniture, we slowly let it pile up until we are drowning in junk.
If you've ever tried to dispose of junk yourself, it can be costly and time-consuming. City dumping fees, e-waste centers, thrift stores and yard sales can be more trouble than they're worth. Fortunately there are professionals available who for a reasonable fee will happily show up at your door, haul your junk away and restore your peace of mind.
Transitions are often a time of sorting and sifting. Changing office spaces or having kids leave for college can be the perfect time to lighten your load and clear out broken equipment, old appliances, discarded toys and various other eyesores. A junk hauler will save you the stress and back-strain of having to transport a flotilla of unwanted trash so you can focus on more important things.
Another instance where a junk hauler can be a tremendously asset is after a disaster. The psychological and logistical chaos after a fire or flood can be debilitating. With extensive damage and tons of trash to remove, where does one even begin? Under these trying circumstances, a junk hauler can be an angel of mercy, magically carting off the remnants of an event you would like to soon forget.
Junk hauling involves not only site pick-up but the sorting, redistribution, and recycling of any items that can be salvaged. An experienced junk hauler can expertly separate materials and knows proper disposal procedures. After all, why toss your perfectly usable 70's era egg-shaped swivel chair into the local landfill? One person's garbage is often another's gold.
Even if you're already good about getting rid of standard household items, yard waste and construction debris can start to collect after a big redesign project. A junk hauler can remove landscaping remains like gravel and dirt as well as stucco or concrete rubble. These materials are not only messy, they can also be a source of fumes and dust that are better left to a professional with the right equipment and respiratory protection.
Given that many of us have slight hoarding tendencies that manifest over time, it makes good sense to let a pro deal with your junk without any sentimentality or anxiety. Once the unsightly heap is hauled away, you will feel a calming sense of order and the muscles around your neck and shoulders may begin to relax a bit. You may even be able to use your backyard again.