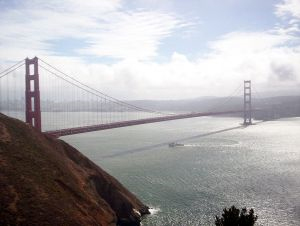 The San Francisco Bay Area is truly a beautiful part of the country. Every year, millions of tourists visit the San Francisco Bay Area to check out historic sites like the Golden Gate Bridge, Fisherman's Wharf, Chinatown and Golden Gate Park.
Not only does the Bay Area have man-made attractions but also a plethora of natural wonders. Curvy roads run up and down the coast, cutting through quaint beach towns and providing incredible views of the Pacific. To the North of San Francisco lies Marin County, which is home to Mount Tamalpais, a variety of old growth Redwood Forests and a pristine coastline. To the South lies the Peninsula, which boasts even more natural wilderness contained in the Santa Cruz Mountains.
One thing that Bay Area residents are particularly known for is their resepect for the environment around them. This tendency makes sense, considering the natural grandeur that surrounds most Bay Area communities. Recycling is big in the Bay Area. The standard citizen makes a point to recycle their waste on a regular basis. In addition to respecting the environment, many Bay Area laws further a green agenda, pushing landlords, businesses, and people to sort their trash by composting and recycling.
Although Bay Area resident have a hold on recycling their everyday waste, such as food, cardboard and cans, they still can find trouble with recycling larger items. Walking around a standard San Francisco street you might see couches, desks, and other old furniture items on the curb. Especially during the summer moving months, many large items are discarded while people are in transition from one home to another.
People don't mean wrong by leaving these large items on the sidewalk. Their line of thinking is: "although I don't want this piece of furniture anymore, someone else could possibly still use it." However, these large items often don't end up in the right places. If they aren't picked up for use by another resident, they can be broken up over time and scattered across the city. These plastic, wooden and metal furniture parts can end up in the city's parks, soil, and natural environments.
A Bay Area resident that really wants to make sure their heavy furniture items end up in the right place should call on a Bay Area Junk Removal professional. A junk hauling company can efficiently pick up heavy items and make sure they end up in the correct recycling facilities. These are bonded professionals who care about providing a good service to customers while also respecting the environment around them by recycling junk.
Junk King is the leader in Bay Area Junk Removal and Hauling, providing efficient and eco-friendly services since 2005. If you live in the Bay Area, keep an eye out for the signature royal red Junk King trucks: you'll see the great service they provide to local residents. If you're intersested in scheduling a free on site junk removal estimate, call 1-888-888-JUNK or book online.